Don't let small spills turn into big problems…use the ADSORBIT® Oil Sweep to clean up small oil spills virtually anywhere!
Item Number: MOS12-30, HOS-24, HSH-60F
Sweep Up Oil Spills
Use the ADSORBIT Oil Sweep on shop and factory floors, assembly lines, boat decks, parking areas or any area that would normally require hands-and-knees placement and removal of sorbent pads. Can be used wet or dry. The complete unit is comprised of three parts: the Oil Sweep™ Cover, the Standard Frame, and the Fiberglass Handle.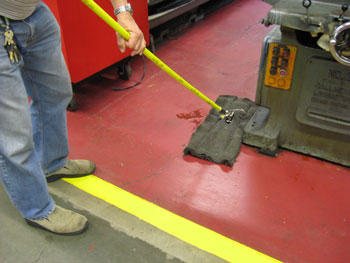 The ADSORBIT Oil Sweep pictured to the left has been in continuous use for over 2 years! 
The ADSORBIT Oil Sweep Has Three Parts:
1. The Oil Sweep™ Cover, Item #MOS12-30
A 12″ x 30″ oil adsorbing cover constructed of three layers of the ADSORBIT Filtration Fabric. The cover features a strong Velcro closure and an extra layer on the bottom for wear against hard surfaces. The Oil Sweep is sized to fit a standard 24″ dust mop frame.
2. The Frame, Item #HOS-24
A 24″ x 5″ chrome plated dust mop frame that easily slips inside the Oil Sweep cover.
3. The Handle, Item #HSH-60F
A 60″ yellow fiberglass handle with quick-release attachment hardware and cap on top with opening for hanging.
Cover
| | | | |
| --- | --- | --- | --- |
| Width | Length | Case Pack | Item Number |
| 12″ | 30″ | 10 | MOS12-30 |
Frame
| | | |
| --- | --- | --- |
| Length | Case Pack | Item Number |
| 24″ | 1 | HOS-24 |
Sweep
| | | |
| --- | --- | --- |
| Length | Case Pack | Item Number |
| 60″ | 1 | HSH-60F |