Mini-SurferTM
Remove Oil, Oil Sheen, and Oil-Borne Contaminants in Catch Basins, Sumps, and Bilges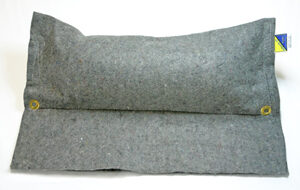 Item #EMS24-30
A versatile product for removing oils and sheen- Fats, Oils, and Greases (FOG) in small areas. The Mini-SurferTM is 24″ wide and 15″ high. It has grommets at both sides under the removable 5″ flotation boom so multiple units may be interconnected. The recovered oils may be recycled and the Mini-SurferTM laundered and reused indefinitely.
The Mini-SurferTM is available in a 24″ wide double-layer curtain with a 5″ diameter flotation boom. The curtain below the boom is approximately 6″ deep. The flotation boom at the top, made from polypropylene, allows the Mini-SurferTM to float at the water's surface to adsorb the oils, oil sheen, and oil-borne contaminants.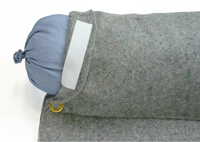 Removable Flotation Allows Oil Recovery
The velcro opening makes it easy to remove and replace the boom. The oils may be recovered by physical means – wringer or centrifuge, and recycled. The Mini-SurferTM can then be laundered and reused indefinitely.
An Environmentally Compatible Product that is disposable as fuel through waste-to-energy incineration.
Call us today to discuss the suitability of ADsorb-it® for your application.
Toll Free: US 1 (888) 668-8982
International: 001 (253) 884-6804