Hula BugTM
Remove Oil, Oil Sheen and Oil-Borne Contaminants in Catch Basis, Sumps, and Vaults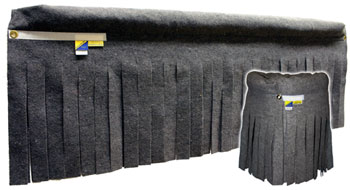 Item #EHB19-5
Finally an Easier Alternative to the Catch Basin Insert. Easy one-person installation and removal. Just lift up the gate and drop it in.
The Hula Bug is available in a 5 foot long (when open) double layer curtain with tendrils reaching aprox. 19″ deep, with a 3″ diameter flotation boom. The flotation boom at the top allows the Hula Bug to float at the water surface to adsorb the oils, oil sheen, and oil-borne contaminants. The tendrils provide maximum surface exposure while allowing maximum water flow. The Hula Bug may be formed into a circle by the adjustable Velcro closure for use in catch basis or sumps.
Approved for use as Catch Basin Insert Washington State Department of Ecology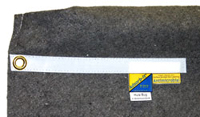 The Velcro at each end allows you to form the Hula Bug into a circle for floating in a confined area with an adjustment ranging from approx. 15″ in diameter to 20″ in diameter. The grommets allow you to hook multiple units together for other applications.
Call us today to discuss the suitability of ADsorb-it® for your application.
Toll Free: US 1 (888) 668-8982
International: 001 (253) 884-6804