Vault Maintenance System
Filter Sock Vault Maintenance System
VMS Filter Sock  #VMS467
VMS Filter Sock 4" x 67" w/ 2" fitting  #VMS467-2F
VMS Filter Sock w 2" fitting in 5gal Haz-Waste Bucket  #VMS467-2/HWB5
State of the Art Filtration Technology to Remove Oil and Sediments from Water
Testing results have shown 99.4% TSS removal and removal of oil and grease to non-detect
"The Future of Vault Dewatering"
See test data.
Patented & Patent Pending.
Remove visible oils and oil-borne contaminants such as PCBs.
Filter sock filters out suspended solids to below compliance levels for the new NPDES II regulations.
Filters out oil, oil sheen, oil-borne contaminants, and suspended solids – as fine as rust!
Configured as a portable, easy-to-use multi-staged filter sock.
Available with or without a quick-connecting fitting.
Available with a plastic cover to direct water flow.
Available in a Haz-Waste liquid-tight container to protect the sock prior to use and to contain any contaminated water after use and prior to disposal.
Great Flow Rate – 385 gpm at 20 psi.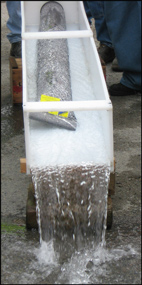 The standard operating procedure for the removal of water from vaults has been to either:
1) Evacuate the contaminated water by pumping it into the environment, risking: regulatory penalties, hefty fines, possible hazmat response, a negative public perception; or
2) Use a vacuum truck for off-site processing which involves: truck expense (if a truck is available), wasted man hours, expensive water disposal costs, and off-site liability at Treatment Storage and Disposal facilities.
You can eliminate the costs associated with vacuum trucks and water processing; you can be within regulatory compliance; and you can help the environment — which not only makes good sense for your company, it helps the bottom line.
Call us today to discuss the suitability of ADsorb-it® for your application.
Toll Free: US 1 (888) 668-8982
International: 001 (253) 884-6804