Shore GuardTM  "Dumbo Surfer" TM
Capture Oil and Oil Sheen Before it Reaches the Shore
 Item #MSG5-10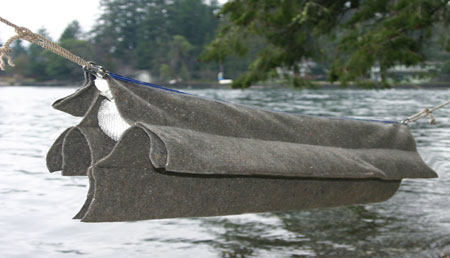 Protect Our Shorelines and Beaches from Contamination During an Oil Spill
The Shore Guard, aka "Dumbo Surfer"TM, is designed for use in turbulent water and light surf to protect shorelines by capturing and retaining released oils, oil sheen, and oil-borne contaminants.
For oil releases on open waters or near shorelines, use interconnected sections of the Dumbo SurferTM with watercraft at each end. Use the "U" or "J" formation and slowly tow the interconnected sections through the impacted area.
The Shore guard is constructed with 4 ears that are approximately 5 inches wide surrounding a boom gallery that accommodates a 5″ diameter by 10′ long removable polypropylene boom for floatation.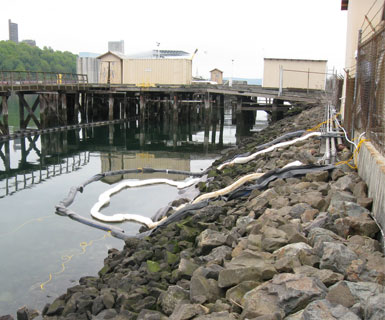 ShoreGuard Dumbo SurferTM installation on Tacoma waterway where oil has been seeping out of the shoreline. Eight units are hooked together to provide excellent collection of the oils, oil sheen, and oil-borne contaminants.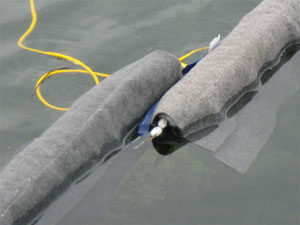 Webbing and snap hooks on each end allow interconnection of multiple units with a 10 inch overlap. Multiple interconnected units can be towed through the water for oil and oil sheen removal.
Call us today to discuss the suitability of ADsorb-it® for your application.
Toll Free: US 1 (888) 668-8982
International: 001 (253) 884-6804