Oil SweepTM
Don't let small spills turn into big problems!
Reusable oil mop to clean up small oil spills on floors or boat decks
Items #MOS12-30, #HOS-24, #HSH-60F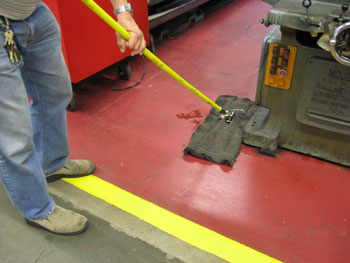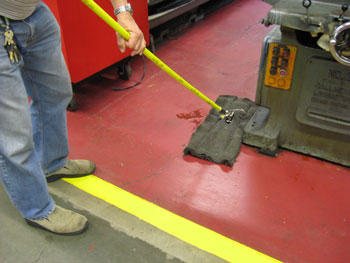 Sweep Up Oil Spills!
On boat decks… shop floors… garage floors… any areas that would normally require hands-and-knees placement and removal of sorbent pads.
Keep the Oil SweepTM Handy for Small Spills
On shop and factory floors, assembly lines, boat decks, parking areas, or garages. Oil SweepTM pictured to the left used in this shop for over 2 years!
The Oil SweepTM Has Three Parts: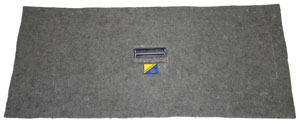 1. The Oil SweepTM Cover
Item #MOS12-30
Packaged in box of 10 covers
A 12″ x 30″ cover constructed of three layers of the ADsorb-it® Filtration Fabric with a Velcro closure – an extra layer on the bottom for wear against hard surfaces. The Oil SweepTM is sized to fit a standard 24″ dust mop frame.
2. The Frame


Item #HOS-24
Packaged as a single unit
A 24″ x 5″ dust mop frame, chrome plated, that slips inside the Oil SweepTM cover.
3. The Handle


Item #HSH-60F
Packaged as a single unit
A 60″ fiberglass handle with quick-release attachment hardware and cap on top with opening for hanging.
Call us today to discuss the suitability of ADsorb-it® for your application.
Toll Free: US 1 (888) 668-8982
International: 001 (253) 884-6804