Most people think that only massive, large-scale, open water oil spills are hazardous. This is simply not true. Even minor spills in the workplace create a dangerous situation that workers need to be aware of. If a company and it's workers aren't properly prepared for an oil spill, they could find themselves struggling to properly contain it. Slip-and-fall accidents are one of the most common types of work-related injuries which is why it's super important for companies to take a proactive approach towards not just preventing them but knowing how to address them if they occur.
How to clean up an oil spill at the workplace
Using absorbent materials such as pads, mats and socks, is a highly effective way to clean up oil spills in the workplace. Carefully laying down some absorbent (or ADsorbent!) pads into the center of the spill will gradually soak up the oil, making it easier to handle.
ADsorb-it Wipes
When a small oil spill occurs on a work surface, concrete, shop floor, etc., ADsorb-it Wipes can save the day! After pads become saturated, you can recover the retained oils, launder the pads and reuse them over and over again. Our ADsorb-it® Fabric Wipes are 15-inch by 15-inch squares and come in packs of 50. They are made from waste fibers, can be reused and are incinerable to less than 1% ash. ADsorb-it Wipes hold 15 to 20 times their weight in oil.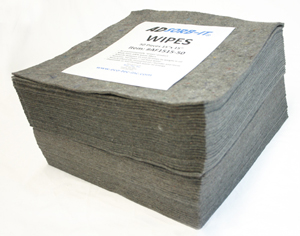 ADsorb-it Oil Sweep
Mop up an oil or fuel spill on boat decks, in the shop, garage, or warehouse. Use the ADsorb-it Oil Sweep any place that would normally require hands-and-knees placement and removal of sorbent pads. The complete unit is comprised of three parts: the Oil Sweep Cover, the standard dust mop Frame, and the Fiberglass Handle. The Oil Sweep can be cleaned and reused indefinitely!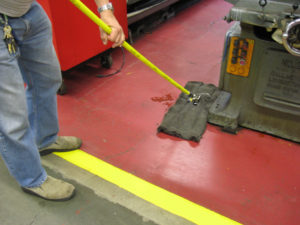 Oil spill training
The most critical requirement for cleaning up oil spills in the workplace is a person and not any piece of equipment. It is absolutely essential to have trained staff to limit the extent of the spill and manage the clean-up process. A lack of training, on the other hand, can result in potential injuries and ineffective clean-up. Contact Eco-Tec, Inc. today to discuss your needs and how we can assist in making your workplace safer.