CentipedeTM
Control Oil, Oil Sheen, Sediments, and Other Contaminants in Ditches and Piping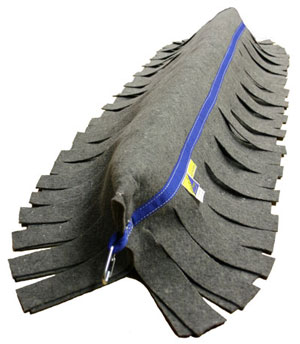 Item #ETC10-5
The Centipede will float on the water surface with the water filtering through tendrils that provide maximum surface exposure for contaminant filtration.
ADsorb-it® Filtration Fabric encloses a 3″ dia. by 5′ long flotation boom. There's a double layer of tendrils extending out from each side, and a webbing loop at teach end for anchoring the Centipede in place. A stainless steel clip provided at one end allows you to hook multiple Centipedes together. The webbing extends the full length of the Centipede for added strength.
This is an extremely effective method for preventing oil, oil sheen, sediments, and other contaminants from passing out through discharge piping to bodies of water, or water treatment systems.
Call us today to discuss the suitability of ADsorb-it® for your application.
Toll Free: US 1 (888) 668-8982
International: 001 (253) 884-6804